Add-On Griddles and Broilers
Rocky Mountain Cookware manufactures die stamped steel griddles and broilers that surpass cast iron in strength and durability while remaining economical. Created for the restaurant industry as well as home, RV, recreational, camping and outfitter use.

Established in 1992 in the heart of the Rocky Mountains of Montana, Rocky Mountain Cookware, Inc. ships to many restaurant supply and equipment dealers as well as sporting goods, camping and outdoor outfitter stores throughout the U.S. and Canada.
Rocky Mountain PRODUCT HIGHLIGHTS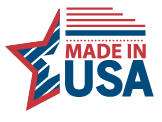 Rocky Mountain Cookware's lineup includes commercial add-on griddles and broilers to fit most ranges and stoves, including; Wolf, Vulcan, Viking, Imperial and many other fine commercial ranges and stoves.
Rocky Mountain Cookware features Carbon Steel